SchoolKraut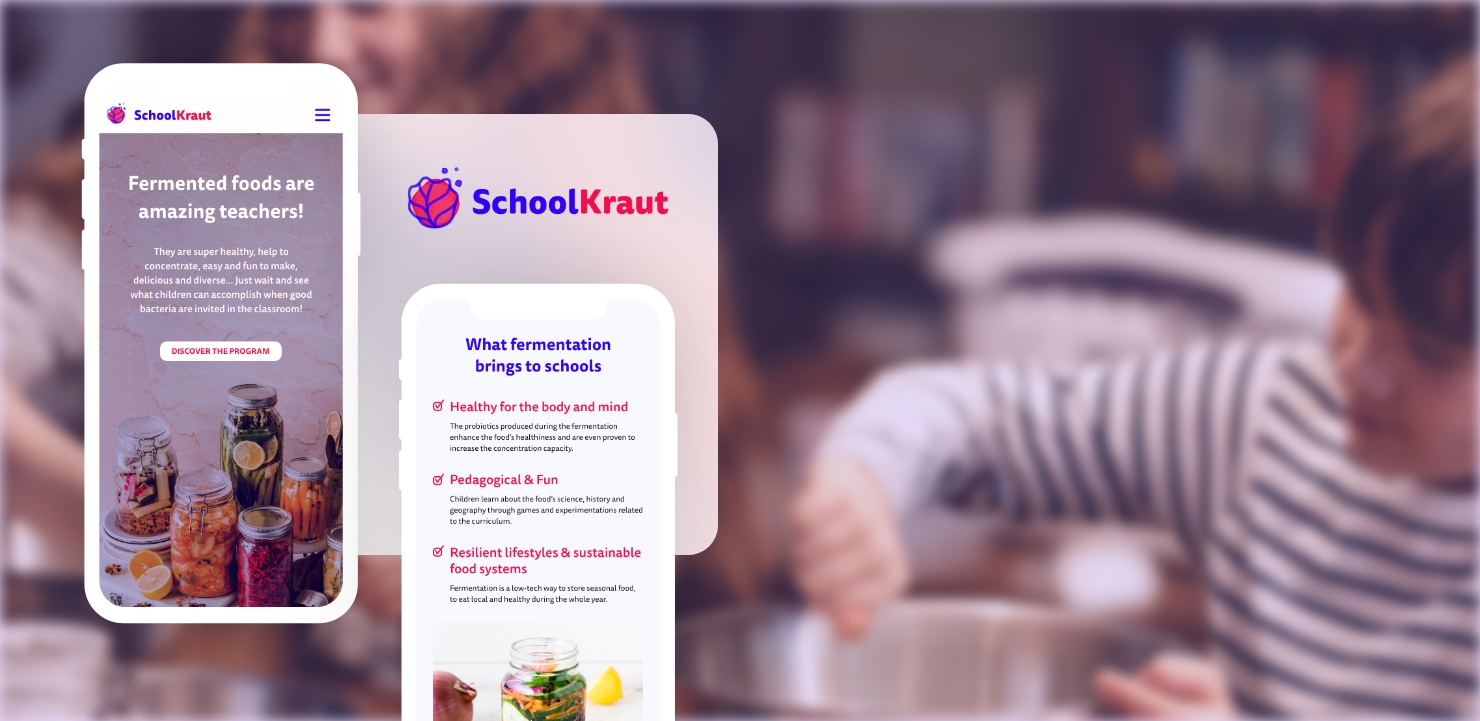 Context
May - September 2021
Master's dissertation project
At Edinburgh College of Art, UK
My Role
Food System Design
System mapping
Service blueprint building
Tools & Methods
The Systemic Design Framework
Expert interviews
With a systemic and holistic approach to the current obesity epidemic problem in Scotland, this intervention aims to develop healthier and more sustainable food behaviours in Scotland through the practice of fermentation in schools.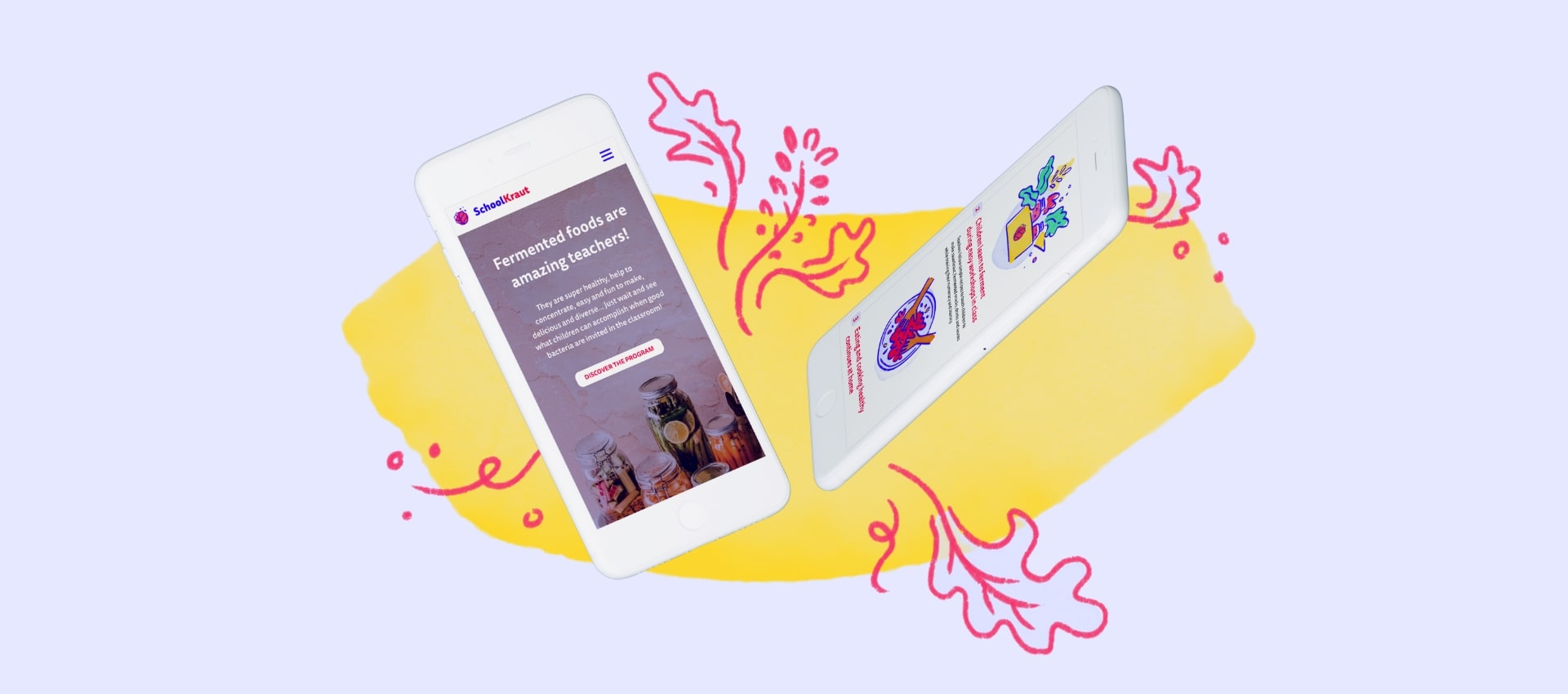 Mapping the systems of a wicked problem
Food behaviours across Scotland are neither healthy nor sustainable: two out of three people are overweight or obese in the country, causing cancers, diabetes and heart diseases, as well as serious economical, social and environmental impacts. To cure these diet-related diseases, we produce the medicine that often initially comes from healthy food, while continuing to eat and produce the unhealthy food. What if the healthy food was eaten in the first place as a resilient preventative medicine?
> Read more about the problem on Medium
People's food behaviours highly depend on complex economic, social and cultural factors, but also on their food and health knowledge. In order to better understand this wicked problem, the stakeholders and dynamics of Scotland's food and health education systems were mapped. This systems map allowed to identify the main opportunities for promoting change among these systems: primary schools, alternative and easy cooking activities, farms, and the web...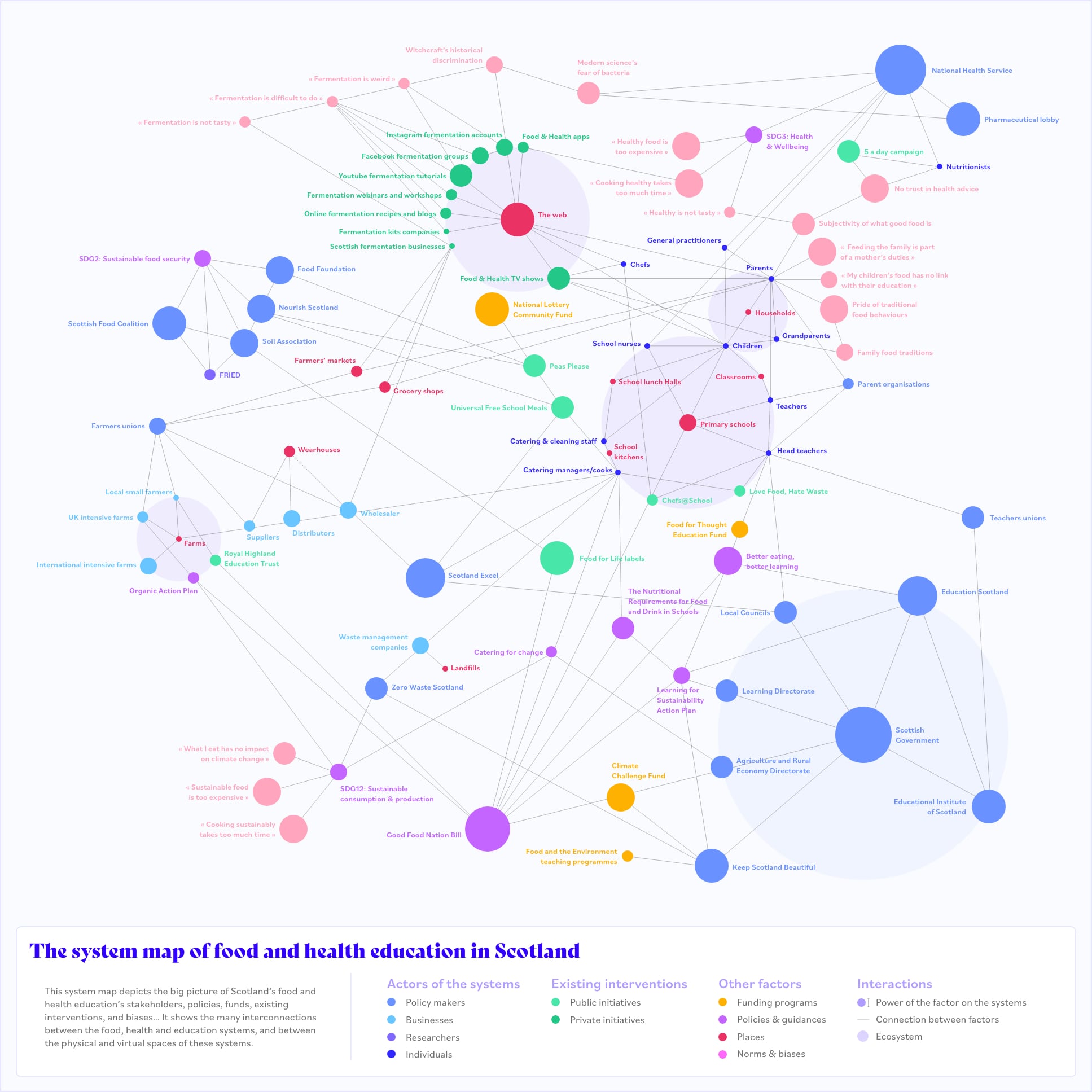 Fermentation is a worldwide, ancient, and low-tech preparation and conservation method, which allows to eat local and seasonal food throughout the year. It is easy, needs few equipment and little knowledge. The probiotics in fermented food are precious for the guts' microbiome, for the body's and the mind's health but also for concentration. Its practice also carries a potential to reconnect people to their environment through the food. Therefore, fermentation represents a great opportunity to eat healthier and more sustainable.
Expert & user interviews
To test and iterate the hypothesis that fermentation workshops in schools can develop better food habits in Scotland, I led a series of semi-structured interviews with experts and users across the fields of health, education, food policy, cooking with children and adults, and business strategy. The interviews' findings helped better identifying the conditions for such an intervention's success, and in turn, defined the shape of the intervention.

Understanding the needs and constraints
Based on the interviews' findings and on complementary research about a specific school in Inverness, a series of personae were defined: a local council's representative, a parent, a school's cook-in-charge, a teacher, a head teacher and a pupil. To be as realistic as possible, their motivations, frustrations, values, and practicalities were identified.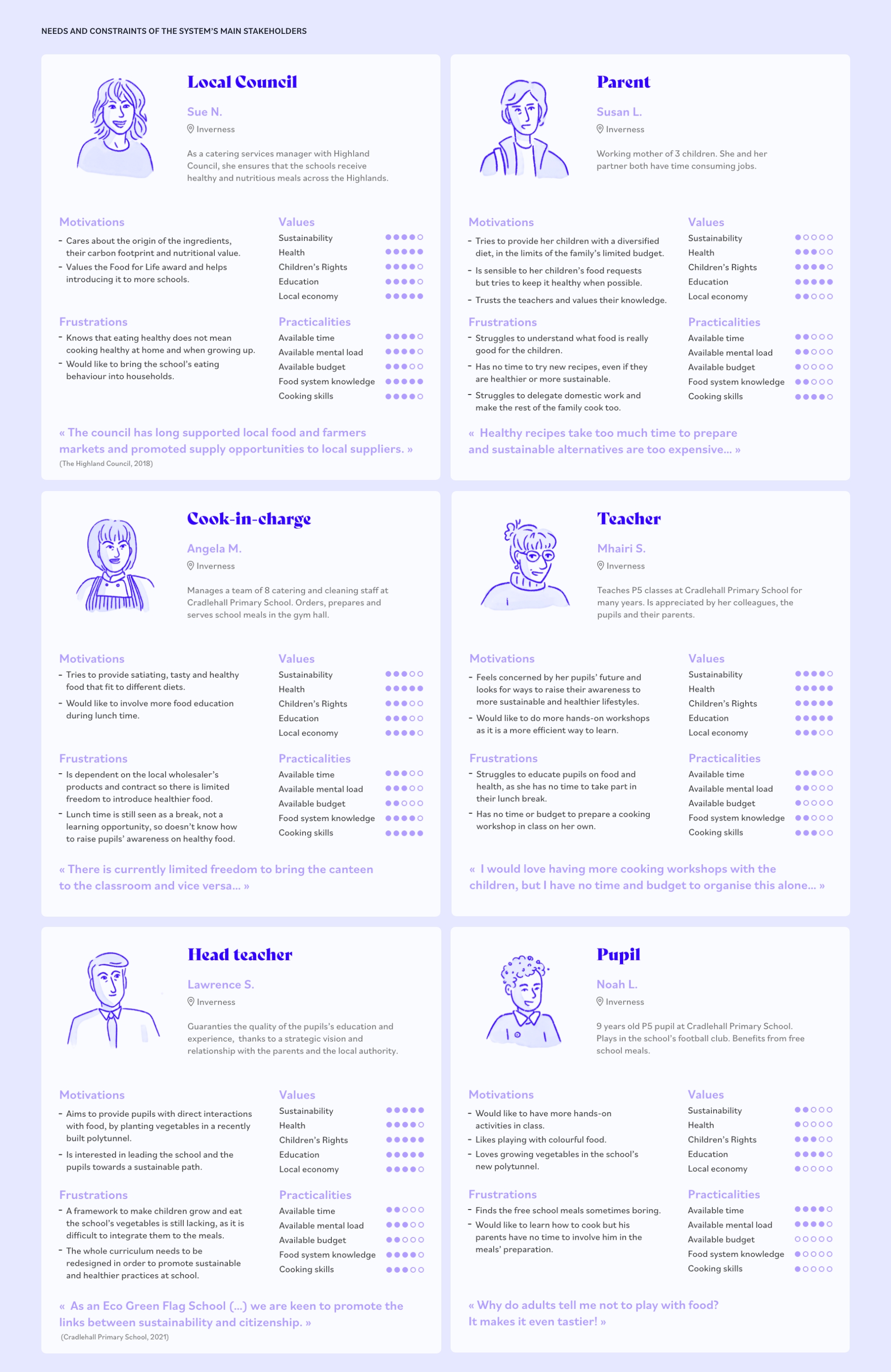 Defining the service's format
After many iterations, informed by the interviewees and secondary research, the intervention seems to provide the following services: An adapted contract is first designed by the local council, the participant school's catering manager, and the school's wholesaler, to agree on a SchoolKraut box which is then delivered to the school with ingredients and equipment for the next fermentation workshop. This allows teachers to easily and regularly conduct playful in-class fermentation workshop. The workshop's recipe follows the story of a modern witch who needs the pupils' help to heal people and the environment. When the food is ready, it is tasted at school by the children and taken home to share it with families. Recipes are also available online to ferment at home.
The following service blueprint presents the different levels of action the service provides to the users. It also shows the way this service can be adopted by new schools and councils and expand across Scotland.

Digital tools for an agile and collaborative adoption of the service
To spread the Schoolkraut service across Scotland's schools and councils, its website first acts like an information hub. It explains why fermentation workshops are meaningful and how the service works, reassures parents and teachers by sharing up to date documentation about fermentation and shows news about what other schools achieved thanks to SchoolKraut.
Because SchoolKraut depends on the collaboration of the different stakeholders of the service, its website also acts like a community platform. Participants can exchange their experience of the service, and build a common culture around it.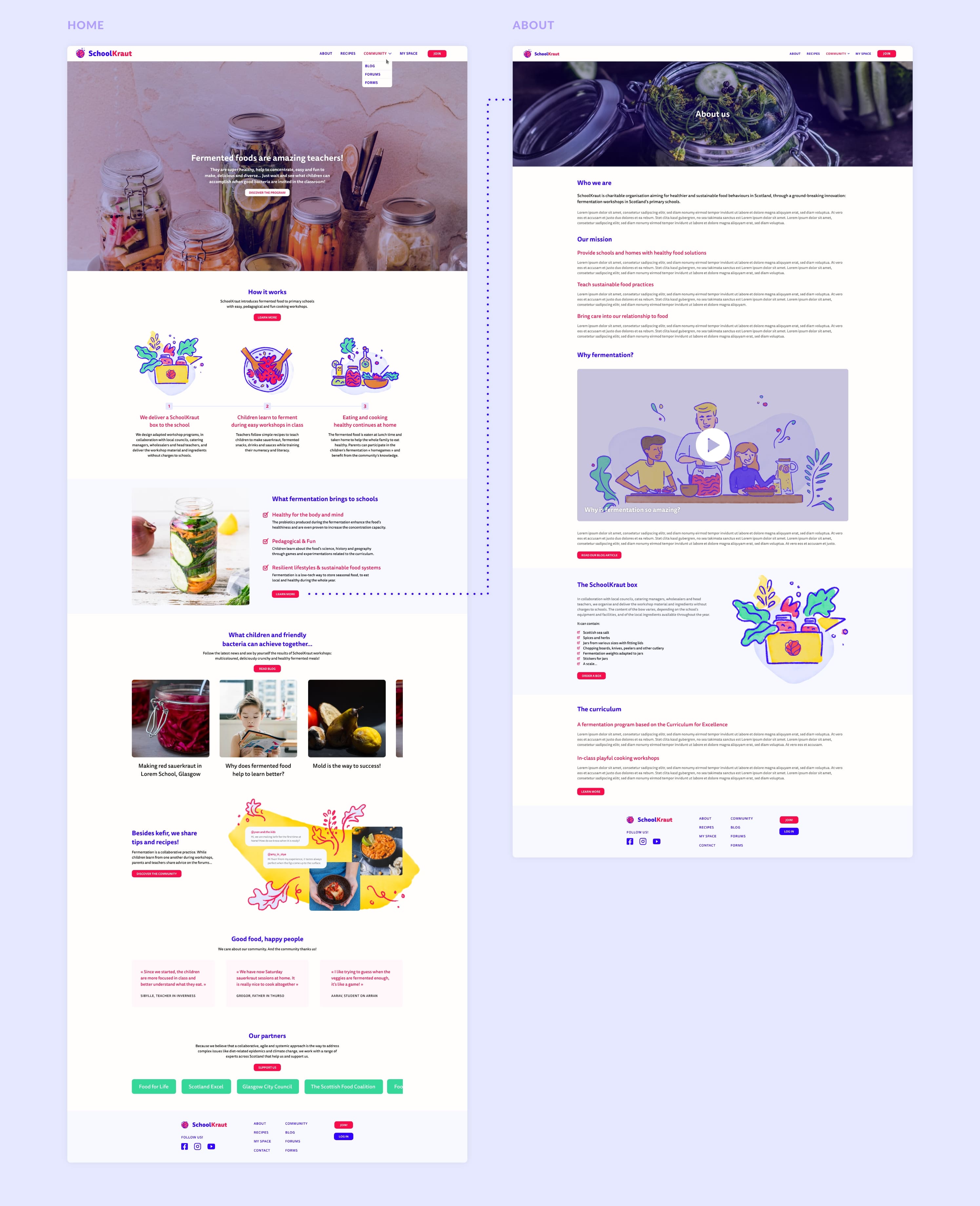 Teachers have access to clear workshop instructions and multicultural recipes through their account. A collaborative order form can be filled in by a team's participants, so that they can agree on adapted SchoolKraut boxes. Children and parents can also continue fermenting at home, thanks to easy online recipes.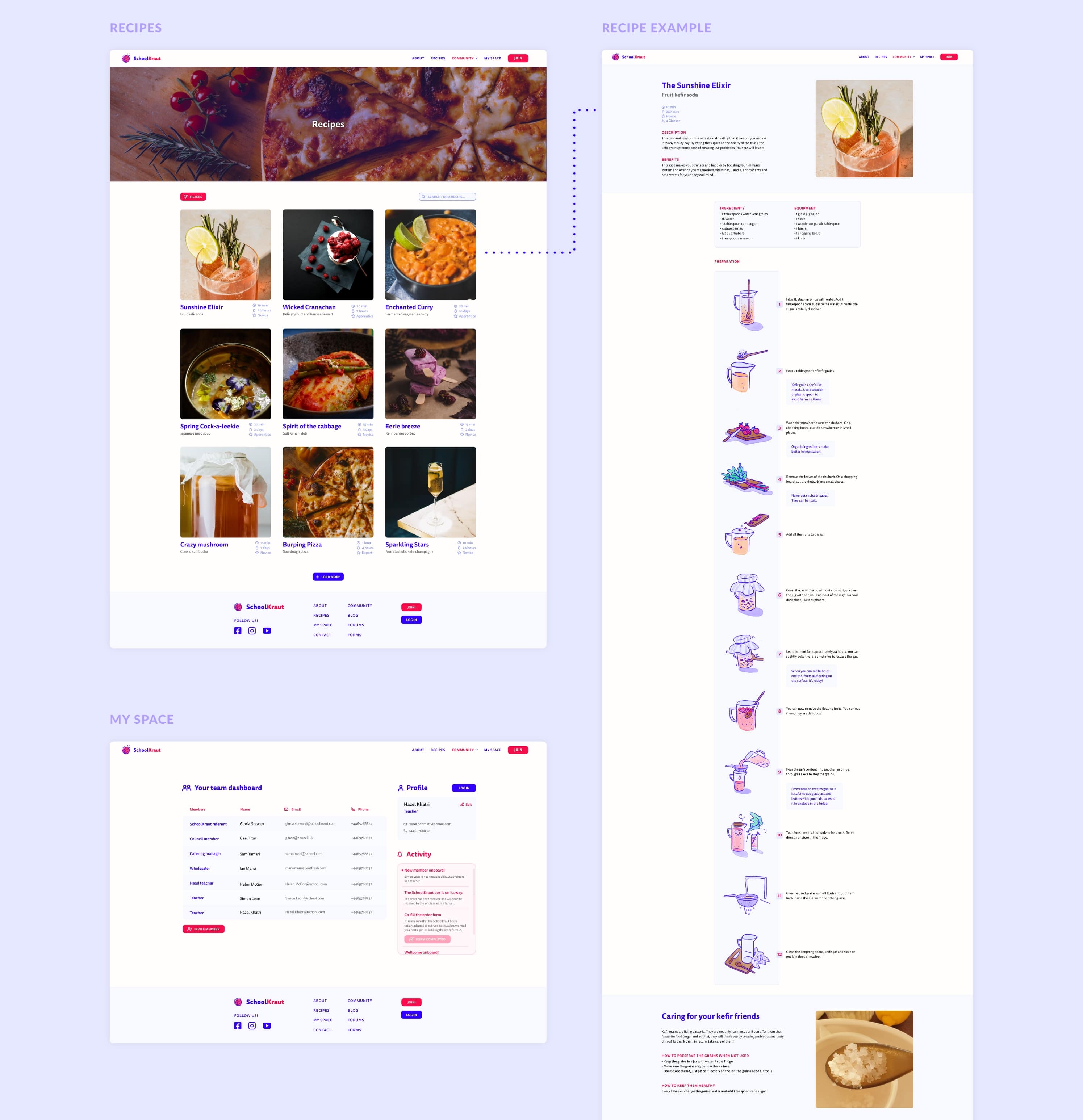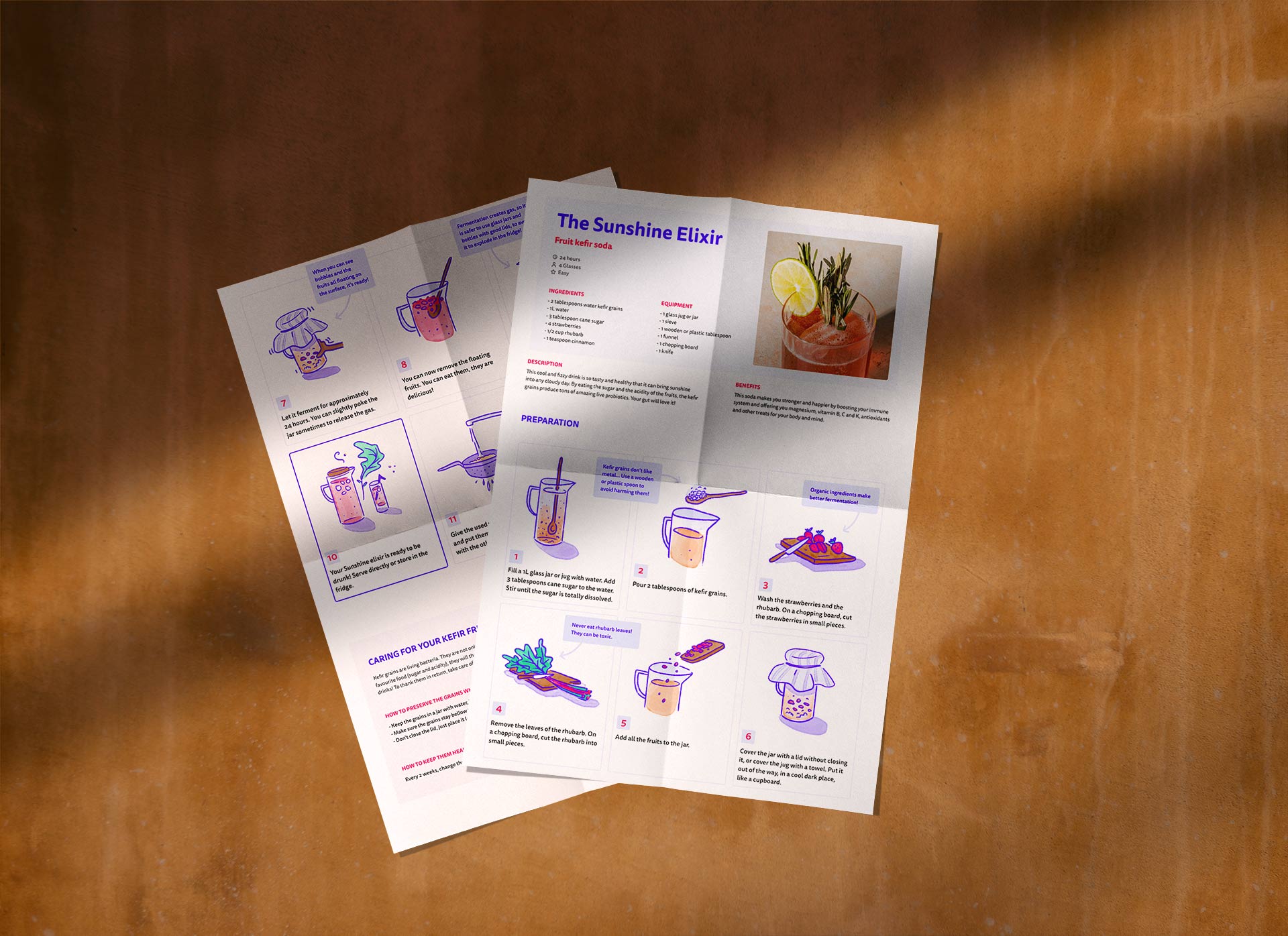 A narrative of reciprocity and inclusion
Fermenting is a reciprocal engagement with non-human species (food and bacteria) and honors the powers of Mother Earth. In Scotland, it was strongly related to the history of witchcraft, as this mysterious process could lead innocent women to burn at the stake. At the same time, fermentation is a science and can teach a lot about nutrition. This intervention suggests a new narrative of fermentation, a balance between witchcraft and science, to promote a new image of this amazing technique.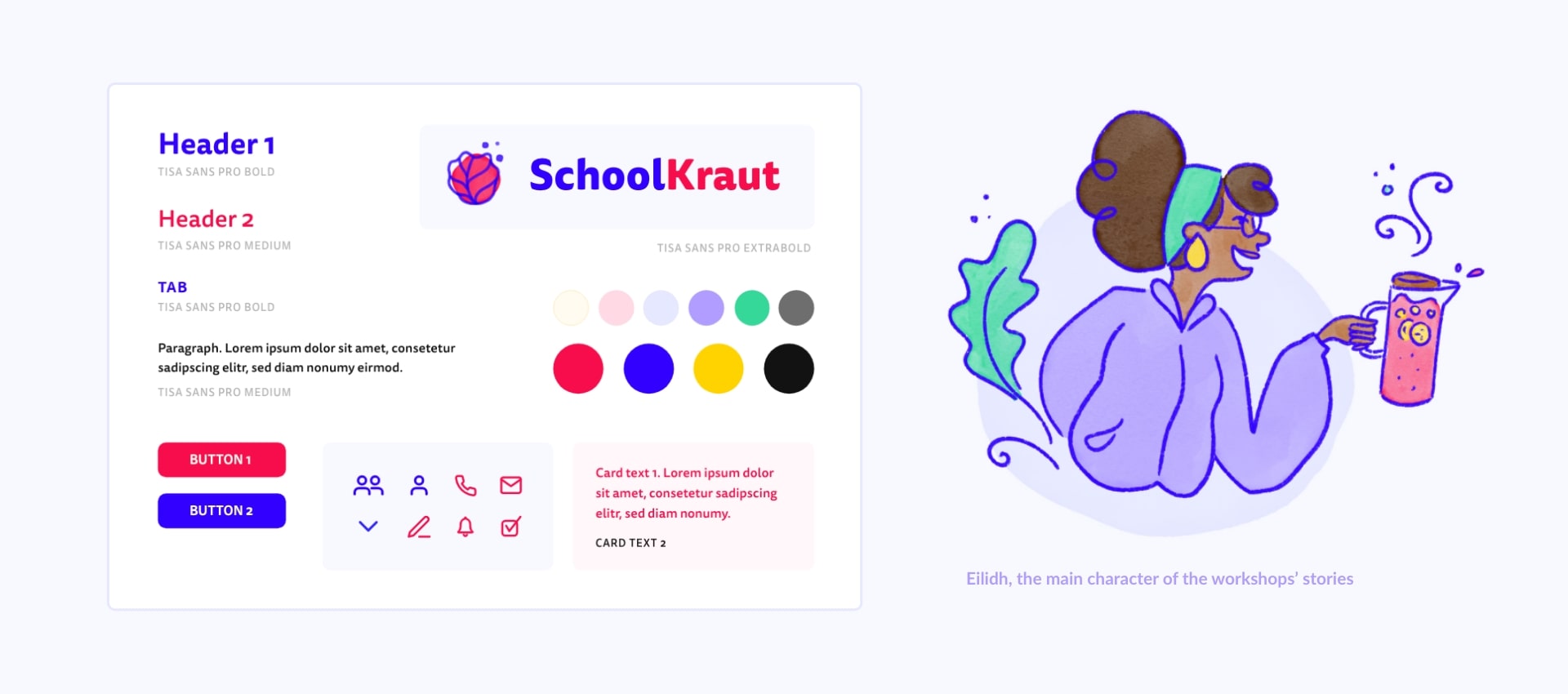 Testing a new iterative and systemic methodology
This project follows the Systemic Design Framework, created by the British Design Council in 2021 to make innovation processes more sustainable and systemic. This framework guides towards people and planet-centered, inclusive, and regenerative approaches while promoting collaborative and iterative practices. Through expert interviews, system mapping, and other activities, this methodology can help creating positive impact and long-term change.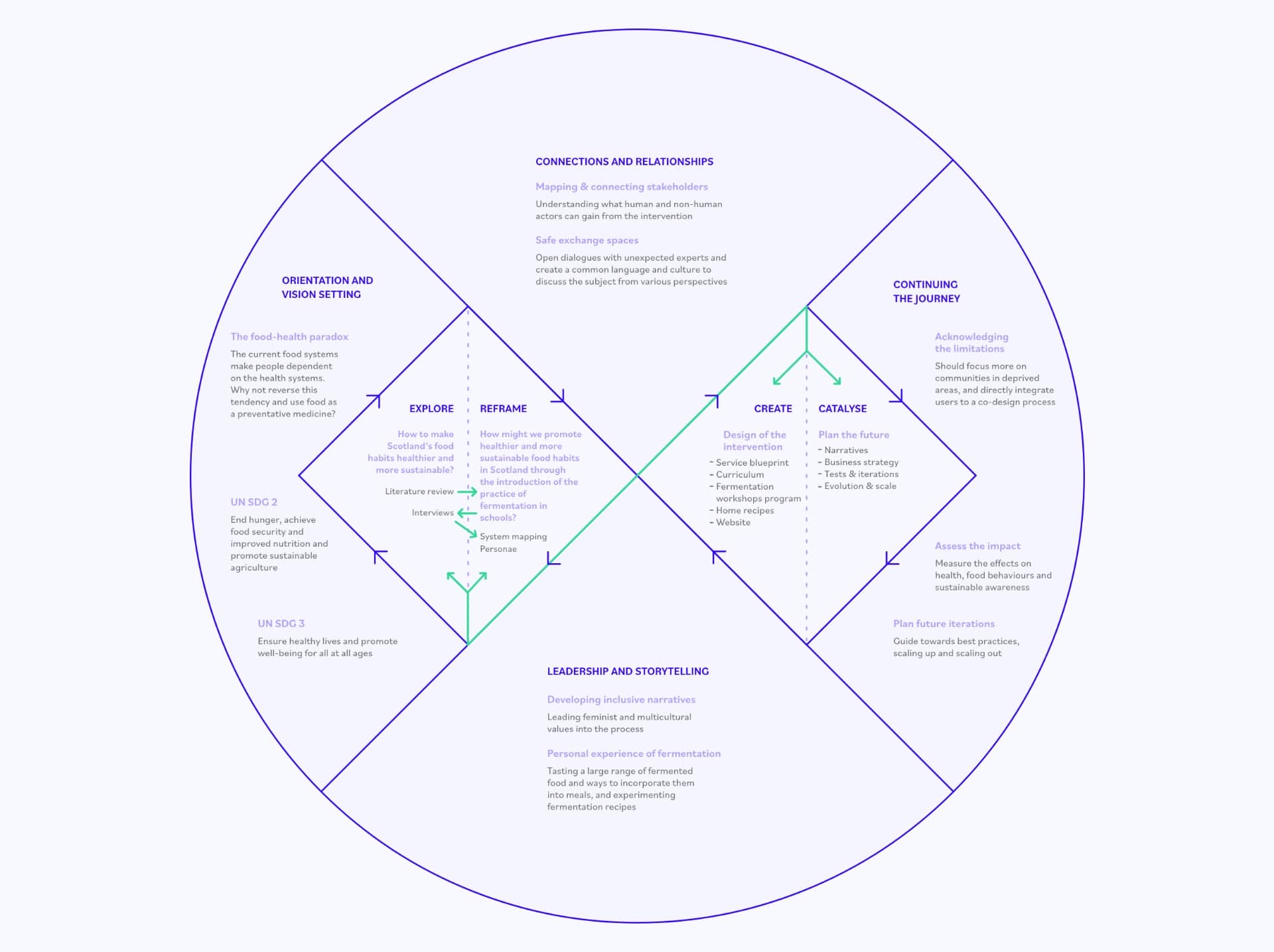 Challenges & future iterations
This service can represent a real potential for behavioural change, and prepare the next generations for more resilient lifestyles. By addressing food-related activities through both the scope of science and of witchcraft, this intervention adopts a disruptive gender-fluid approach to food and health, and can therefore reduce gender inequalities in domestic work on the long term.
The intervention's limitations can be linked to its capacity to be widely adopted, depending on the stakeholders' remaining perceived socio-economic constraints. The public and private fundings it depends on should therefore be further defined. It can also be argued that the service should not only induce sustainable behaviours, but also be more sustainable itself. Nevertheless, as this intervention might first need to prove its impact to be able to expand, the aesthetic constraints induced by the Green-IT rules for example could be an obstacle in the service's acceptance and can rather be part of future iterations.
Finally, this work participates in the construction of a more sustainable practice of design, by testing recent methodologies and informing future work about Scotland's food behaviours, promoting design-led change.
Read full thesis
Next Project : Agora